Children's Book News & Reviews Archives
by Nancy Guist, Children's Collection Coordinator
March 2019
Books open a child's world in so many diverse and enchanting ways.  This adventure can begin for a child even as a baby with the sharing of board books.  Sharing books with a baby or young child encircled in ones arms not only creates for her a warm and secure space, but also stimulates with color, shape and even texture. And, of course, besides inciting the visual, the books simple words expose children to developing vocabulary, rhyme and sometimes even the fun of letters combined to create familiar or nonsensical sounds.  Originally, board books were simply popular picture books reformatted.  Today, however, many radiate creativity and produce truly unique experiences.  Below is a sampling of just a few board books we have in our collection.
Hippopposites by Janik Coat
An imaginative, consistent use of a simplified hippopotamus shape is used to visually convey opposites such as in front/behind or thin/thick.  But Coat's creation goes further than the traditional opposite words by introducing such words as clear/blurry and invisible/visible.  Even a 4 or 5 year old might find these pages fascinating.
Rhyme Flies by Antonia Pesenti
"With Foldout Pages!" announced on the front, one knows something engaging is bound to happen within this book's covers.  And sure enough beginning with the first page, we are not disappointed.  The word Alarm Clock in bold print on the left is faced by a simple picture of a nightstand upon which sits an alarm clock and to the right the partial depiction of a bed with a teddy bear's face peering up from the bottom corner.  Unfold the page and the rhyming word is Alarm Croc with the accompanying picture identical to the first except now a crocodile stands in front of the nightstand with the alarm clock cleverly standing in for his face.  My favorite is Spoon of Marmalade transforming to an ingenious work of art for Moon and Starmalade upon unfolding the page.
The Game of Patterns by Hervé Tullet
Tullet's books are creations that exhibit innovation and whimsy.  If you and your young child have not discovered his interactive books, make sure to check our catalog for some.  A couple are board books but most are filed in the Easy section.  Press here gives a child a sense of magical control, as he follows the simple instructions with the turn of each page.  The board book, The Game of Patterns, introduces children to patterns that are subtly changing. The author challenges the child to find as many differences as she can.  This book is actually directed to children 3 years plus.
Gallop! by Rufus Butler Seder
Gallop! has been around for 12 years continually fascinating young children.  Through the technique of scanimation, animals appear to be galloping, strutting and soaring across each page.  The rhyming text and the nonsensical words rounds out this visual, auditory adventure that children will want to experience again and again!
I can't conclude this month's column on board books without giving a nod to Sandra Boynton's charming books filled with her silly, endearing animal characters.  Whether it's Pajama Time, Hey! Wake Up! or Belly Button Book!, there will be chuckles and giggles as adults and children have fun sharing them together.
---
February 2019
Insignificant Events in the Life of a Cactus by Dusti Bowling
Suggested ages: 9-12 years
Thirteen year old Aven has a more difficult road to navigate than most teens. Born without arms or as Aven quirkily puts it, "unarmed", she faces each day with spunky determination sprinkled with humor.  Her adoptive parents have been her life-line, always believing in her while providing acceptance and encouragement. Aven has developed supportive friends and teachers in her Kansas community but now must face a life changing move. Her parents have accepted a job in Arizona running a dilapidated western theme park, Stagecoach Pass, in hopes of turning it around.  And so Aven must leave the security of familiar surroundings and friends to begin anew in her quest to be accepted and seen as a normal teen.
In her new dusty, desert home Aven eventually forms a bond with Conner who must cope with his own disability, Turette's Syndrome. Together they deal with life as  mid-schoolers as well as become engrossed in fettering out a mystery revealed in an old storage shed at Stage Coach Pass. The discovery of  a mysterious necklace and a lost photograph eventually lead to revelations of Aven's own background.  Memorable characters along with an inspiring story, told through Aven's plucky and droll outlook, contribute to an exceptional read.
Snails Are Just My Speed! by Kevin McCloskey
Suggested ages: 4-7 years
Snails Are Just My Speed!, is the fourth Toon book in the Giggle and Learn series by Kevin McCloskey.  Toon books are written for beginning readers using a comic book format – "graphic novels" for early readers.  They have branched out to include fact filled books as well.  McCloskey's  books are a clever combination of fascinating details and humor geared to kids.  Though written for the young reader, they are filled with information that can astonish adults as well.
In reading Snails Are Just My Speed!, I learned that a tortoise goes 300 times faster than a snail,  a snail's tongue has over 14,000 teeth and a snail can repair its broken shell with its very own "mucus glue."  Amazing!  With colorfully drawn, detailed pictures, along with kid and snail speech balloons,  this skillfully created Toon book is sure to become a favorite.
Ocean Meets Sky by The Fan Brothers – Terry & Eric
Suggested ages: 3-7 years
Graced with lovely ethereal and imaginative illustrations, Ocean Meets Sky will capture children's imaginations.  Little Finn, who lives by the sea, reminisces about his grandfather – his voice and his stories which tell of the magical place where ocean meets sky.  In his grandfather's memory, Finn embarks on a construction project on the beach, building a boat of found materials which might take him on the journey he and his grandfather had dreamed of.  After working dedicatedly, Finn curls up for a short nap. When he "awakes", he feels the movement of his boat signaling that the long awaited journey has commenced.  What follows is his dream-like quest to find that special place guided by a giant golden fish.  Enchanting scenes pass by –  the Library Islands, an island of giant shells, a sea with dancing moon jellies.  But then as Finn's boat ascends into the sky, the worlds of sea and sky amazingly blend.  Finn senses his grandfather's presence before being called back from his dreams by his mother for dinner and "grandpa's dumplings."  Ocean Meets Sky sensitively portrays loving cross-generation relationships and loss.  The illustrations will call back children again and again as they visually take their own journey across the pages.
---
January 2019
We have just added several new audio books for younger children (PreK – 3rd grade).   Currently, they are on display with the new books atop the children's shelves.  For the most part, hardbound copies corresponding to these audio recordings are available in our collection. Check our catalog as to location. Audio books for older children continue to be on the shelves to the left of the juvenile non-fiction.  And eventually, the new audio books will either be on these shelves or part of the hanging kits.
Look for these new additions:
Jamie Lee Curtis Audio Collection including such titles as
Is There Really a Human Race? and Where Do Balloons Go?
New Kid on the Block, selected poems written and performed by Jack Prelutsky
Annie and the Wild Animals by Jan Brett
Mouse Tales and Mouse Soup written and read by Arnold Lobel
Arnold Lobel Audio Collection which includes
Grasshopper on the Road, Owl at Home, Small Pig and Uncle Elephant
It's Raining Pigs & Noodles, poetry and songs written and performed by Jack Prelutsky
Three audio books devoted to Dr. Seuss collections including, among others,
What Pet Should I Get?, Green Eggs and Ham, and How the Grinch Stole Christmas!
 Mr. Rabbit and the Lovely Present, by Charlotte Zolotow
Frog and Toad All Year and Frog and Toad Are Friends, by Arnold Lobel
Panda Bear, Panda Bear, What Do You See? and  Brown Bear, Brown Bear, What Do You See?  By Bill Martin
---
December 2018
One of the most loved aspects of holiday times is the traditional food that is intertwined in these celebrations.   The books below might just evoke those wonderful fragrances which are a part of our winter festivities.
The Borrowed Hanukkah Latkes by Linda Glaser, illustrated by Nancy Cote
Suggested ages: 4-8 years
Rachel feels like she is in heaven as she samples her mother's delicious potato latkes in preparation for their large family gathering on the last night of Hanukkah.  Then comes a last minute phone call from Aunt Tilly which means 8 more people and so the need for more latkes. But soon Rachel's mother discovers there are not enough potatoes and then insufficient eggs.  Rachel runs over to their neighbor, Mrs. Greenburg, in hopes to borrow these items and also invite her to their celebration.  As in times past, their elderly neighbor declines to come but generously shares the requested items with a smile.  As Rachel mother declares, Mrs. Greenburg has a "heart of gold" but is "as stubborn as an ox."  Soon Rachel's small home is filled with family but now without enough chairs. Being a bit stubborn herself, Rachel comes up with a creative solution.  This is a heartwarming tale that reflects generosity as well as sensitivity and care for others.  An added bonus is a recipe for potato latkes so all readers can have a taste!
Jasmine Toguchi, Mochi Queen, by Debbi Michiko Florence, pictures by Elizabet Vuković
Suggested ages: 6-8 years
Spunky 8 year-old Jasmine has a goal.  She wants to participate in the annual making of mochi, a Japanese rice dessert, which her extended family gathers to make as part of their New Year's celebration.  The problem is that she is too young – not until one turns 10 is she permitted to be part of this tradition. Not only does Jasmine want to help, she is determined that she be allowed to pound the rice – a task reserved for the men of the family.  Jealous that her older sister, Sophie, can help this year and provoked by her unpleasant cousin, Eddie, Jasmine puts together a plan.  Children will empathize with her as she sets forth – sometimes with humorous consequences – to achieve her dream.
For those who wish to try a simpler version of mochi, a microwave mochi recipe is included at the book's end. Realistic family relations along with an appealing main character make this a perfect introduction to the Jasmine Toguchi chapter books.
Tia's Tamales by Ana Baca, translated and illustrated by Noël Chilton
Suggested ages: 5-8 years
Tia's Tamales is a family folktale embedded in the contemporary story of Luz and her abuelita making tamales together.  Luz's grandmother arrives with a mysterious colorful box which she sets aside as she declares that this snowy day is perfect for tamale making.  But first she shares with her granddaughter the story of Luz's great-grandfather, Diego, when as a young boy he worked tirelessly to take care of his ailing mother.  When Diego's tia unexpectedly arrives in a colorful, feathery hat, he finds himself helping his aunt make tamales. He learns that the land about them offers many edible riches and that the few foods left in the pantry can be creatively used in this traditional food.  And so together aunt and nephew work at "making happiness", as Diego learns how to "make something out of nothing."
During the retelling of this tale, Luz and her abuelita have made their own tamales.  As they steam, Luz opens her grandmother's mysterious box which reveals an heirloom that ties the family legend to Luz's here and now.  Children will have fun spotting an illustration of that colorful box along with a playful chick on each page. This bilingual tale includes a brief history of tamales as well as a traditional tamale recipe.
---
November 2018
A family comes in many forms and sizes; its members bound together by love and shared experiences.  Today children's books reflect the variety of families we see all about us.  Here are a few which star families of all types and backgrounds.
The Family Book, by Todd Parr
Suggested ages: 3-7 years
With simple, boldly colored pictures outlined in black, Parr illustrates the diversity of families.  One sentence on each page with accompanying picture introduces a happy group – "Some families are big, Some families are small"; "Some families have a stepmom or stepdad, Some families adopt children."  Occasionally a double spread appears stating a characteristic that connects all families – "All families like to celebrate special days together!"  Children will delight in finding a page that represents their families as well as seeing all the family possibilities!
The Blessing Cup by Patricia Polacco
Suggested ages: 6-8 years
The Blessing Cup tells the story of the author's own family ancestry beginning with her great-grandmother, Anna, in the 1900's in czarist Russia.  Her family was one of the many Jewish families who found it necessary to leave Russia and immigrate to America.  Along with their possessions is a tea set given to the family by an aunt with the message that the it brings with it good fortune, love and joy.  The tea set is passed down to each generation of Polacco's family symbolizing strength and love during times of hardship, as well as celebration.  The detailed charcoal illustrations highlighted with the brightly colored tea set and Anna's scarf provide continuity as the tea set follows each generation.  This is one of many children's books that emphasize the importance of family history and tradition.
Others include All the Way to America, the Story of a Big Italian Family and a Little Shovel by Dan Yaccarino and Coming to America, a Muslim Family's Story, by Bernard Wolf.
The Misadventures of the Family Fletcher, by Dana Alison Levy
Suggested ages:  8-12 years
Any young reader will enjoy getting to know the dynamic Fletcher family made up of two fathers (Dad and Pa) and four adopted brothers along with their dog and cat.  Their adventures reflect familiar episodes in a typical American family.  Twelve-year-old Sam, a dedicated and talented soccer player, grapples with his new interest in acting and how that might be perceived by his sports-minded buddies. Eli, ten years old, is a gifted student, who is entering the private school of his dreams, but discovers the school is not what he had imagined it to be. Jax, also 10, has committed to interviewing his grumpy new neighbor for a school project on war veterans but is finding this assignment most formidable.  And then there is rambunctious Frog who delights in kindergarten and making a new friend, Ladybug, whom his family is not quite convinced really exists.  The family's adventures have an authentic ring along with the dialog, which is spot on.  Throughout the school year lessons are learned and insights gained and the reader can't help but be glad that she has been introduced to this compassionate, fun-loving family.
Paper Chains by Elaine Vickers and Life According to Dani by Rose Lagercrantz are two other fine contributions to middle grade literature, which touch upon such topics as adoption, birth parents, and families with single parents.
---
October 2018
New children's books have recently been added to our collection – always a cause for celebration!  They include early readers, picture books both fiction and non-fiction, and chapter books.  There is something for every age – PreK, Primary and Intermediate grades, as well as Middle School.  Children will discover award books, books that bring forth laughter and books that help one see someone or something in a different way.  Some shine light on various cultures while others carry the reader into a world of fantasy.  And there are a few additions to popular series as well.
Below I have briefly highlighted three of the new additions. Look for all our new books either atop one of the children's low book shelves or displayed in the book trays attached to the end of the Juvenile Fiction shelves.
Snail & Worm Again, by Tina Kugler
Suggested ages: 4-7 years
Snail and Worm make their second appearance here in three clever and humorous stories. Children will readily see the silliness embedded in these creatures' take on everyday objects. However, along with the laughs is the touching bind of their friendship.  Personality and emotion come through in Kuger's simple line drawings.  This 2018 Theodor Seuss Geisel Honor Book is a perfect book for children transitioning to easy chapter books.
Grand Canyon, by Jason Chin
Suggested ages: 7-12 years
This fascinating introduction to the Grand Canyon was both a 2018 Caldecott Honor Book as well as a 2018 Robert E. Sibert Honor Book, an award for non-fiction books for children.
Beginning with a detailed topographical map of the Grand Canyon on its end papers, the book is filled with fascinating facts about one of our world's largest canyons.  We, the readers, embark on our Grand Canyon journey on the floor of this immense wonder.  We then follow in the footsteps of a young girl and her adult companion who have camped in the Inner Gorge. The large pen&ink and watercolor illustrations depict the pair's upward ascent to the rim. These pictures, in turn, are bordered with animals, plants and geological features, which correspond to the various elevations. Occasionally, small cutouts around fossils seen in the canyon's layers provide a peek to the scene on the following page. These subsequent scenes transport the young hiker, along with the reader, back in time to the period when the particular fossilized animal or plant was alive – a clever device! The book ends with a magnificent double gatefold vista of the "grandest canyon on Earth" followed by further notes on the canyon's history, ecology and geology. This truly is a prize-winning book!
Wishtree, by Katherine Applegate, illustrated by Charles Santosa
Suggested ages: 8-12 years
Nature seems to bear a wisdom that we humans would be wise to attend to. In Wishtree one such sage is an ancient red oak tree, known as Red, who is the narrator of this thoughtful book.  Red provides a captivating beginning to his tale, introducing the reader not only to himself but to all the animal families that call him home, including his best pal, Bongo, a witty crow who calls it as he sees it.
Red is not only an oak who has gathered wisdom throughout his long life. He is also a "Wishtree".  Every May Day young and old alike bedeck him with written personal wishes, from "I wish for a flying skateboard" to" I wish my dad could get better."  This year he hears Samara, a young Muslim girl whose immigrant family is new to the neighborhood, whisper her wish, "I wish for a friend."  The neighborhood has not been welcoming. LEAVE has been carved into Red's trunk, for he stands by Samara's home. It is then that the oak tree along with his animal companions, combine forces to see that Samara's wish becomes a reality.
Applegate skillfully creates the thoughts and dialogue of Red and the animals. She has a sensitive touch as she brings to life her characters. Along with an engaging story, the author also uses Red's voice to weave in the science of the natural world and its inhabitants. By the time the reader has come to the last page, she will look at a tree or a crow with a whole new perspective.  And also, hopefully, she will become a welcoming friend to those who come here from faraway lands.
---
May 2017
Every year youth book awards are announced in various categories. This month I will focus on the 2017 John Newbery winners (most outstanding contributions to children's literature) and the 2017 Randolph Caldecott winners (most distinguished American picture books). All these books are currently available at PCL or on order.
NEWBERY MEDAL FOR 2017:
The Girl Who Drank the Moon, by Kelly Barnhill
Suggested ages: 9/10-14 years
The Girl Who Drank the Moon is a magical book which should appeal to all lovers of fantasy. As in the traditional fairy tale, the major conflict rests with the competing powers of good and evil.
The people of the Protectorate are ruled by the Elders who enforce the yearly tradition of the taking of the youngest baby to the nearby woods as an offering to the witch. With this sacrifice they believe the witch will not torment their community. However, the witch, Xan, is a kind, gentle soul who uses her magic wisely and each year rescues the baby left in the forest clearing, placing each with loving families residing in the Free Cities. Xan would feed the rescued baby starlight to satisfy the child's hunger and magically bless the child as she trekked back to her home. However, this year, she distractedly gathers moonlight which she feeds the babe who eats it hungrily, realizing too late her error. Moonlight is so powerful that the baby, Luna, is now "enmagicked." Xan, whose love for Luna is boundless, realizes she must protect her innocent child from the magic that is within her until her thirteenth birthday. Meanwhile, she teaches Luna about the wonders of the ordinary world from mechanics to botany. Two other delightful characters, companions to Xan, provide lightheartedness to this tale: Fyrian, a tiny earnest dragon, with an endearing simple outlook on life, and Glerk, a swamp monster, who is wise and poetic. The conflict begins in earnest when a young man of the Protectorate sets out to rid his land of the "witch" and remove the sorrow with which his homeland is enshrouded. The tale winds its way amongst a madwoman in the "Tower", the evil "Sorrow Eater", magic paper birds, and an erupting volcano.
The Girl Who Drank the Moon shines forth with the power of hope and love along with the importance of memories. Barnhill's narrative is beautifully written, creating a vivid world of fantasy supported by enduring truths.
2017 Newbery Honor Books:
Freedom Over Me: Eleven Slaves, Their Lives and Dreams Brought to Life, by Ashley Bryan (on order)
The Inquisitor's Tale: Or, The Three Magical Children and Their Holy Dog, by Adam Gidwitz
Wolf Hollow, by Lauren Wolk
Randolph Caldecott Medal for 2017:
Radiant Child: The Story of Young Artist Jean-Michel Basquiat , written and illustrated by Javaka Steptoe (On order – I plan to discuss it in a future column.)
2017 Caldecott Honor Book:
Freedom in Congo Square, illustrated by R. Gregory Christie, written by Carole Boston Weatherford
Suggested ages: 5-8 years
Congo Square is today an open area in New Orleans now commemorated as a site on the National Register of Historic Places. Originally, it was a field set aside as the sole place for African slaves to gather on Sunday afternoons after working from sunup to sundown, Monday through Saturday, for their masters. Here they danced and played instruments reminiscent of ones from their homelands. Written in rhyming couplets, Freedom takes the reader day by day through the slaves' week, enumerating their chores. While the slaves work, they count down the days to Congo Square. When Sunday afternoon arrives, the meeting of both slave and free is wrapped in joyous music and dance. It's a time that elicits a sense of freedom and unity. Weatherford's lyrical retelling is accompanied by Christie's vivid, minimalist art. The lithe slave figures tell a story on their own whether bent over picking cotton or with arms outstretched rhythmically taking in the joy of their native music. The scenes at Congo Square emit a sense of carefree abandonment. Seeing these last scenes could provoke one to tap his toe or clap her hands along with the beat that seems to shout out from the illustrations. This award winning book, bringing to life the history of Congo Square, is a testament to the strength of hope and community while living through dire times.
2017 Caldecott Honor Book:
Leave Me Alone, illustrated and written by Vera Brosgol
Suggested ages: 4-7 years
The old woman in Leave Me Alone is somewhat reminiscent of the "old woman who lived in a shoe." Too many children prove to be a problem to both. However, Brosgol's grumpy woman simply wants to get on with her knitting and finds that rambunctious, curious children in a small house are a definite hindrance. They find balls of colorful yarn to be a fountain of fascinating fun! So off the woman with her yarn goes, shouting her signature phrase, "Leave me alone!" Imaginative encounters with bears, mountain goats, and green moon-men ensue before the old woman reaches the "other side of the wormhole." Here she finds solitary silence and is able to complete her task. Upon her return, this old woman has a sack full of love to share with all those gleeful children. Sometimes we need a bit of quiet, solitary time to create gifts for those we love.
Other 2017 Caldecott Honor Books:
Du Iz Tak?, illustrated and written by Carson Ellis (on order)
They All Saw a Cat, illustrated and written by Brendan Wenzel
---
April 2017
April brings thoughts of new life whether it's a green shoot poking through the soil, early desert flowers beginning to bloom, or the miracle of life taking place in an egg. And so this leads me to focus on some special books in which eggs play important roles.
Lulu and the Duck in the Park by Hilary McKay
Suggested ages: 6 – 9 years
This early chapter book is the first in a series of six books about Lulu, her friends, and their antics and adventures. Lulu is an energetic and confident third grader who loves every animal from hamsters to spiders. In this heartwarming story, Lulu saves a lone duck egg while on a class field trip. "Life with an Egg" followed by "Life with a Duck" will delight any youngster as Lulu attempts to surreptitiously care for her rescued duck egg, soon to be a thirsty duckling, while at school. The author, Hilary McKay, has an ear for authentic child "speak" as well as a sense for children's feelings and reactions. Plucky Lulu will remind many of Beverly Cleary's beloved Ramona. Lulu has the potential for becoming a favorite of early young readers.
Chickens Aren't the Only Ones written and illustrated by Ruth Heller
Suggested ages: 3 – 7 years
Ruth Heller's books, many of which focus on animals and plants, are a treasure of magnificent artwork combined with scientific accuracy in color and details. With simple rhyming text accompanied by her vintage illustrations, Heller creates in us all a sense of wonder in nature's variety and beauty. Though published in the 1980s and 1990s, the books have a timeless quality for both children and the adults in their lives.
Chickens Aren't the Only Ones has remained a favorite of mine. Beginning with chicken eggs, it branches out to other birds and eggs of all sizes and colors. From there Heller examines reptiles and their eggs, even including dinosaurs, followed by amphibians. Next fish and sea creatures are shown to be egg layers, from the mother seahorse who lays eggs into the father's pouch to the amazing octopus whose thousands of eggs are strung out in strands hanging beneath rocks. Insects too are not forgotten and finally the two mammals who break the mammalian rule and also lay eggs. (Do you remember what they are?) And so concludes this perfect book to share in this season of eggs!
An Egg is Quiet by Dianna Aston, illustrated by Sylvia Long
Suggested ages: 5 – 8 years
Sylvia Long's stunning ink and watercolor artwork is enough reason to spend time with this lovely volume. Her detailed replication of eggs reminds us of the amazing diversity nature has to offer. The text includes many fascinating egg facts along with the specific identification of each egg or animal shown. Graphic timelines show the development of the life inside various eggs alongside a diagram explaining the function of the parts of an egg. Much is to be learned with a minimum of text supported by illustrations which beckon one, child or adult, to take a second look.
---
March 2017
This month's "Children's Book News" has a bit of a different focus than the usual monthly edition. It's an FYI blurb, in case some of you may not be aware of particular types of collections available in the Children's Area.
Readers – Levels 1, 2, 3, and 4 (located along the first shelf of Easy (picture) books right above board books) If your child is an early reader this section has a wealth of engaging books.
Reader 1: Beginning readers – Short sentences, basic vocabulary, repetition and simple concepts. Examples of books labeled Reader 1 include Fancy Nancy at the Museum, Robot, Go Bot! and Follow the Polar Bears (non-fiction).
Reader 2: Longer sentences, high interest stories with more developed plots, language play. Examples of Reader 2 include Days with Frog and Toad, Night Creatures (non-fiction), and Don't Throw it to Mo!
Reader 3: Geared to the independent reader with challenging vocabulary, complex plots including historical fiction. Examples include Ape and Armadillo Take Over the World (A Toon Book with a graphic format) and Tiger Tales and Big Cat Stories (non-fiction).
Reader 4: These books introduce paragraphs and short chapters and are a perfect lead in to the independent reading of chapter books.
Reader 0: We have only a few of "Reader 0" or books for the emergent reader which emphasize sight vocabulary, very simple text and direct picture support. If there is an interest in this level, please let someone at the Help Desk know. They can provide you with an orange PAN (Patron Action Notice) form on which you can make your request.
"Kits" These hanging kits are located on the same side of shelving as the Readers but on the opposite end. Generally, they include a CD along with the corresponding picture book. Some of the older ones have cassette tapes rather than CDs. Then there are some unique selections such as Whose Back is Bumpy?,
a textured soft-foam book sporting the textured "skins" of different animals, and Little Bear's Jigsaw, a Little Bear story combined with a jigsaw puzzle on each page.
Audio Books — Located against the wall in the children's area are a collection of mostly audio chapter books on CDs. Among the titles are Matilda by Roald Dahl and selections from Jenny Nimmo's Charlie Bone series and The Magician's Trilogy.
Audio books have many benefits for the young reader: They can introduce children to books written above their reading level, model good read-aloud techniques, and provide practice in critical listening. And they are great for a long car trip!
The Placitas Community Library is always open to learning more about the needs and interests of its patrons. If there are items you or your child would like to see more of, whether it's a particular title, books by a favorite author, or more selections in general categories, please stop by the circulation desk and fill out one of those orange PAN forms. It will be put in my box so I can include your wishes for the next book order. We are here to serve our community and so your input is vital.
---
February 2017
Cloud and Wallfish by Anne Nesbet
Suggested ages: 10 – 14 years
One day Noah suddenly has his world turned upside down. His parents inform him they will be temporarily moving to East Germany and his name is no longer Noah Keller but rather Jonah Brown. This new identity includes more than a mere name change. Noah has been given a different background including age, school, neighborhood – all backed by a photo book which his parents have compiled to share with him before the move. In addition, there are important rules to live by when they settle in East Germany. His mother carefully explains to Noah the Nine Rules he must always keep in mind in his new home, especially Rule Number 1: " They will always be listening and watching." Noah with his Astonishing Stutter has often had enough to cope with in 5th grade. Now he is completely baffled, full of questions that don't receive satisfying answers. However, one thing is for certain. His parents love him deeply and ask for his trust.
Thus opens this historical novel for children which takes place in East Germany in 1989, mere months before the Berlin Wall falls. The author, Anne Nesbet, spent the summer of 1987 in East Berlin as well as the first six months of 1989 and the spring of 1990. She has a feel for the time, the setting, and the people. She augments this fascinating and moving story with "Secret File" notes at the end of each chapter that provides historical context to the book's narrative. Perhaps one of the most difficult changes for Noah in his new home is the lack of friends his own age. His savior comes in the form of a girl in his own apartment building, Claudia ("Cloud"), who has been dealt with a life-changing tragedy. Together they see themselves as "changelings," – beings from one world who are compelled to live in another. Each, in their own way, emotionally supports the other. Cloud and Wallfish is compellingly written and has the air of authenticity in its intimate third-person telling. The mystery and suspense which are part of this tale keep the reader involved. Arching over the drama is the importance of friendship and family. One of the thoughts the book leaves the reader is best expressed in the following quote: "Home is not mostly a place. Home is someone putting her arms around you and saying the words your heart longs to hear, always and everywhere."
Juana & Lucas, written and illustrated by Juana Medina
Suggested ages: 5 – 8 years
This initial introduction to Juana and her amigo, Lucas, a lovable dog, will appeal to fans of the Judy Moody and Junie B. Jones series. However, Juana & Lucas brings with it some bonuses. It is set in Bogotá, Colombia, thereby introducing children to another culture. In addition, Spanish words are sprinkled throughout the text with the context easily revealing the meaning. Perhaps what is most important with this foreign setting is that young readers will easily relate to Juana. Her emotions and desires are universal as is the book's humor. This first Juana adventure centers about her school experiences and her frustrations at having to learn that totally confusing language, English, which is part of her school's curriculum. Her tongue "tickles" when trying to say that pesky "th"! As the story unfolds, we are introduced to significant characters in Juana's life: Lucas, her "furry amigo", Juli, her very good friend, Mami, her mother who is the most important person in her life, Tia Cris, her favorite aunt, and Abue and Abuelita, her loving grandparents. With each of these introductions comes a fascinating full-page illustration of each with detailed descriptors encircling their portraits. The colored ink and watercolor artwork, which enhances the book's pages, is energetic and expressive. Juana and Lucas is sure to become a much-loved series for the early elementary reader.
We Found a Hat, written and illustrated by Jon Klassen
Suggested ages: 4 – 8 years
A hat is again the focus of a Jon Klassen picture book. (See his earlier books – This is Not My Hat and I Want My Hat Back.) With signature bold pictures done in various shades of neutral colors and his sparse text, Klassen shares with children a nuanced tale. Two turtle companions come across a lone hat. But with only one hat and two turtles, we have a conundrum! The more thoughtful turtle declares they must forget about the hat since there is only one, but the second turtle has doubts. What ensues is an unsurprising step by the doubting turtle followed by a resolution that is satisfying in its imaginative and "dreamy" conclusion.
Daydreaming, written and illustrated by Mark Tatulli
Suggested ages: 3 – 6 years
What child (or for a matter of fact, what adult) has not been a daydreamer at times? But Henry takes the prize in that category! As soon as he grabs the cereal box for his morning breakfast and reaches into it for a free prize, he is off in the land of "Honey Bear Crunch." Colorful, fantastical pictures follow, detailing all the raucous fun in which he is immersed. Then an adult voice awakens him to the present and he is off to school. It is not a surprise that once there Henry again is captured by his daydreams. As one might expect, the recess bell is a welcome sound for Henry. It's not long before he sees his miniature-self riding a rather bizarre looking grasshopper. And then Emma Rose appears – a fellow daydreamer – who joins Henry in a wonderfully fantastical adventure. A graphic format tells Daydreaming's story with vivid and expressive artwork occasionally supported by speech bubbles. Young children will love taking this daydream trip with Henry!
---
January 2017
SNOW, by Sam Usher
Suggested ages: 3 – 7 years
There is nothing more enchanting than to awake to a snowy morning. The young narrator of SNOW bubbles over with enthusiasm as he announces to his Granddad that snow and fun times await outside. Peeking out the door, he gazes onto his front yard's unblemished snowy covering, not a footprint in sight. But Granddad is taking way too long to get ready, while his grandson impatiently sees others already making their mark in the snow as they head to the park. Finally, the two head out but what greets them at the park is a fantastical scene! In the end, both agree that "some things are definitely worth waiting for."
Over and Under the Snow by Kate Messner, with art by Christopher Silas Neal
Suggested ages: 4-8 years
With lyrically simple language, children are introduced to the "secret kingdom under the snow." A young girl and her father cross-country ski into the forest. As they glide over the snow, the father shares the stories of creatures who winter under earth's frosty covering – sleeping, eating, and warming themselves. Sometimes father and daughter catch a glimpse of scurrying activity – a squirrel disappearing under a snowy layer or a red fox leaping to catch a mouse hidden beneath the snow. They spy footprints which reveal a passing animal's story. And the two leave their own tracks, their skis producing a curving path through the woods and back home. The gentle artwork is done in cool colors – browns, light blues, lavender, grays, and white.  The scenes provide an x-ray vision of what lays beneath the ground so we see mice sleeping in their cozy nest or beavers gnawing on twigs within their lodges. The book ends with an "Author's Note" which shares more details about this subnivean zone and the animals which spend their winter there.
Snowflake Bentley by Jacqueline Briggs Martin, illustrated by Mary Azarian
Suggested ages: 4-8 years
Who cannot help but gaze upon a single snowflake in wonder. Its symmetrical intricacies are a work of art. Wilson Bentley, who grew up in snowy Vermont, experienced this same fascination. As a boy, his favorite time of the year was when the countryside was covered with snow. Using an old microscope, he explored nature's amazing details in flowers, grass, but especially snowflakes. As a teenager, he tried to draw the snow crystals but was often frustrated for, of course, they melted much too quickly. Recognizing his passion, Willie's parents used their meager savings to buy their son a camera with a microscope. It magnified a snow crystal from 64 to 3,600 times its actual size! So began Wilson Bentley's life-long pursuit in experimenting with photographing as many unique snowflakes as he could. This lovely picture book tells Bentley's story in a compelling narrative. Frequent side panels contain specific biographical facts which flush out W. A. Bentley's experiences and accomplishments. Most striking are the woodcuts, hand-tinted with watercolors, which appear on each page giving life to Wilson Bentley's remarkable story. It is no wonder that Snowflake Bentley received the Caldecott Medal in 1999.
---
December 2016
The Penderwicks, A Summer Tale of Four Sisters, Two Rabbits, and a Very Interesting Boy by Jeanne Birdsall
Suggested ages: 8-12 years

Winner of the 2005 National Book Award for Young People's Literature
Though taking place in summer, The Penderwicks is the perfect book to curl up with on a chilly day, warmed by the adventures of a delightful group of sisters along with that "interesting boy." Responsible Rosalind (12 years old), impetuous Skye (11), dreamy, imaginative Jane (10), and finally little Batty (4), whose fascination for animals is reflected in her ever-present orange and black butterfly wings, along with their loving and wise botanist father, are about to spend a three week summer vacation in the Berkshires. At the last minute, they have finally found a cottage sight unseen. They have no idea what to expect, but upon arrival,they find that their imagined run-of-the-mill cottage is actually part of the Arundel estate, graced with beautiful gardens, fountains, and a mansion occupied by Jeffery who lives under the thumb of his demanding, self-centered mother. Jeffery quickly becomes a fifth "Penderwick", joining in all the raucous fun the girls promote. A variety of adventures ensue, from meeting up with an unruly bull to searching for escaped rabbits along with missing Batty. A more significant focus is the predicament in which Jeffery finds himself. His domineering mother is convinced that he should attend a military prep school following in the steps of his grandfather. She pays no heed to Jeffery's love of music, his talent, and his fervent desire to pursue his aspirations. The Penderwick girls are, of course, on his side. When Jeffery takes some dramatic steps to right this wrong, Jane quickly defends him by exclaiming that this is "about heart and truth and adventure." Such words are also a most fitting description of this first installment of the tale of the Penderwicks published in 2005. Since then three additional Penderwick volumes have come out, the latest in 2015.
The Hundred Penny Box by Sharon Bell Mathis, illustrated by Leo and Diane Dillon
Suggested ages: 6-9 years
1976 Newbery Honor Book
The Hundred Penny Box epitomizes the very special bond between the very young and the very old. Michael is fascinated by his great-great-aunt Dew and her hundred penny box. For the box does not simply contain physical pennies in a small print sack. More importantly, it is a treasure chest of memories. Michael loves playing their penny counting game. He dumps the pennies in the box. As he shouts, "One!", dropping the first penny back in the sack, Aunt Dew replies, "18 and 74. Year I was born. Slavery over!" When Michael gets to 27, his aunt reminisces, "19 and 01. I was twenty-seven years. Birthed my twin boys." And so the game goes, his aunt often deep in reflection before several pennies later, she calls out a memory to fit the number. Michael's mother wants to take the old dilapidated box away, replacing it with a pretty, small mahogany chest, but Michael resists. He knows the box's import to his aunt. "When I lose my hundred penny box, I lose me," she had said. Michael realizes that his aunt, being so old, forgets certain things, like calling him "John", his father's name. However, the times sharing penny box memories, listening to her music as she hums or swings her arms, or just lying down next to her, are times of comfort and love for him as well as his Aunt Dew. The gentle, dreamy illustrations in sepia tones are a perfect match to the tender times shared by young Michael and his elderly aunt.
Kitchen Dance written and illustrated by Maurie J. Manning
Suggested ages: 3–7 years
A young girl and her brother, Tito, awake to sounds of clinking, swishing, and clattering from the kitchen, followed by humming and laughing. Quietly, they sneak out of bed and peer through a crack in the kitchen door. They see their mother and father singing and dancing to a Spanish song, "¡Cómo te quiero! Oh, how I love you! Umm, hmm." A wooden spoon becomes a microphone, pots rhythmically clang, and feet tango across the tiles. Once spotted, the two youngsters are included by the parents in their joyous dance filled with energy and affection. As the sleepy children are at last again tucked into bed, one is left with the circle of love and tenderness that is family.
Blackout by John Rocco
Suggested ages: 4-8 years
2012 Caldecott Honor Book
It is a hot summer evening and as we peer through the windows of an apartment building, we can see that a family of four is each engrossed in their own solitary tasks. Dad is cooking dinner, Mom is hunched over her computer, and big Sis is engrossed in a phone conversation. Everyone is busy except the younger daughter who pulls out a board game and tries to find a willing player to no avail. "Much too busy!" And so we see little Sis choosing to play a video game. And then suddenly, the city street is curtained in darkness. "Blackout!" Without electricity new choices are unexpectedly forced on the family. Flashlights and candles come out, and Dad attempts to entertain with finger-shadow animals. But then the family ventures out in the night to be greeted by a sky filled with visible stars as well as neighbors and families enjoying the simple joys of being together. Eventually, the lights do come back on and all returns to "normal." But younger Sis rejects this normal and finds a way to bring her family together again. The book's graphic design consists of color panels melding into black and white panels as the lights go out. Simple descriptive sentences with occasional dialogue balloons effectively bring this story of family to life.
---
July 2016
JOHN NEWBERY MEDAL – Given to the author of the most distinguished contribution to American literature for children. This year the award went to Last Stop on Market Street.
Last Stop on Market Street by Matt de la Pena, pictures by Christian Robinson
Suggested ages: 3-6 years
CJ's Sunday begins like any Sunday, attending church with his Nana followed by a bus ride to Market Street. However, on this Sunday CJ is feeling somewhat out of sorts, as he rushes out of church only to find they would be waiting for the bus in the rain. Like any young boy, he is full of demanding questions: "How come we don't got a car?" " How come it's always so dirty over here?" and so on. His Nana takes his queries in stride as she gently open his eyes to the beauty and goodness all about them. Her wisdom guides him in recognizing the worth of the people they meet and perceiving the vivid colors of the life that surrounds them. At last their bus ride comes to its usual end, where together Nana and CJ share their good fortune with others. Using acrylic paint and collage, Christian Robinson creates simple, but expressive scenes which effectively convey the diversity and wonder of CJ's urban world.
The Newbery Honor Books, all of which are in our collection, are listed below.
The War that Saved my Life, by Kimberly Brubaker Bradley
Roller Girl, written and illustrated by Victoria Jamieson
Echo, by Pam Munoz Ryan (Reviewed in October 2015 – See archived reviews on the library's website.)
ROBERT F. SIBERT INFORMATIONAL BOOK MEDAL – Awarded to the most distinguished informational book for children published in the United States. This year the award went to Funny Bones: Posada and His Day of the Dead Calaveras.
Funny Bones: Posada and His Day of the Dead Calaveras written and illustrated by Duncan Tonatiuh
Suggested ages: 7-11 years
Have you ever wondered how the calaveras, the festive skeleton figures one sees during el Dia de Muertos (Day of the Dead) celebrations, came to be? They are the creation of Mexican artist Jose Guadalupe (Lupe) Posada (1852-1913). Funny Bones tells his story. As with artists of all genres, Posada had a passion for his chosen craft. His love for drawing at an early age later led to his enrollment in a local art academy, followed by his work at a print shop. Here he found his true calling – creating lithographs, engravings, and etchings.
The author explains the creation of each in explicit, pictorial steps. Posada's art extended to political cartoons and story illustrations. Eventually, he began to illustrate humorous rhyming poems about calaveras written by others. His work became famous throughout Mexico. Several of Posada's calaveras etchings are reproduced in Funny Bones, along with the author's suggestions to the reader as to what Posada may be saying through his drawings. Tonatiuh's art with its earthen tones and primitive style, inspired by Pre-Columbian art, provide a striking contrast to Posada's black-lined, intricate etchings. The book concludes with a glossary and author's note containing further information on el Dia de Muertos as well as Jose Guadalupe Posada himself.
Sibert Honor Books (All in our collection)
Drowned City: Hurricane Katrina and New Orleans, written and illustrated by Don Brown
The Boys Who Challenged Hitler: Knud Pedersen and the Churchill Club, by Phillip Hoose
Turning 15 on the Road to Freedom: My Story of the 1965 Selma Voting Rights March, by Lynda Blackmon Lowery
Voice of Freedom: Fannie Lou Hamer, Spirit of the Civil rights Movement, by Carole Boston Weatherford
CORETTA SCOTT KING ILLUSTRATOR AWARD – Given annually to outstanding African American illustrators of books for children and young adults that demonstrate an appreciation of African American culture and universal human values. This year the award was given to Trombone Shorty.
Trombone Shorty by Troy "Trombone Shorty" Andrews, illustrated by Bryan Collier
Suggested ages: 4-8 years
The power of music and the dedication necessary to attain one's dream propel Troy "Trombone Shorty" Andrew's message as he shares his personal musical story in this picture book. Troy grew up in the Treme neighborhood of New Orleans where he was surrounded by music, an integral part of both his family and neighborhood. Music became Trombone Shorty's love – it inspired him; it motivated him. He tells how he began playing a found trombone at age 4 and at age 6 actually led a band of his friends, using instruments they made themselves. His brother's trombone-playing was his model – he practiced constantly, even taking his trombone to bed. As a child, he performed with Bo Diddley at the New Orleans Jazz and Heritage Festival. Today he has his own band, "Trombone Shorty and Orleans Avenue," and has played around the world. The book's illustrations, combining watercolor and collage, have a music of their own as colors swirl from Trombone Shorty's instrument. The illustrator himself, in an afterward, speaks of the balloon images throughout which "represent music always being around and floating through the air." His artwork is a powerful partner to Troy Andrew's boyhood memoir. The book ends with an author's note which includes photos and a summary of Andrew's accomplishments as well as his fervor to share music with others, especially young people, in a hope he might help them attain their musical dreams.
---
June 2016
Biggest, Strongest, Fastest by Steve Jenkins
Suggested ages: 4-9 years
Biggest, Strongest, Fastest is the perfect accompaniment to the summer program, "Animal Athletes." Within this book's covers are profiles of fourteen animals that set world records in various categories. Along with each doublespread animal illustration are briefly worded facts. In addition, there are small silhouettes of the pictured animal and a man, visually clarifying the stark contrasts in size, strength, etc.
Steve Jenkins's books are the ultimate vehicle to explore the amazing world of animals. His stunning cut-paper collages are bound to capture the imagination of any child. Mr. Jenkins's colorful animal art is always accompanied by fascinating factual information – enough to enthrall but not too much to lose the attention of a young reader. Once a child is introduced to one of Steve Jenkins's marvelous books, she is sure to search out another. We have several in our children's collection for further exploration.
---
JUNE 10:  TUNE-UP – GROWIN' UP FIT 
Curious Chris returns and his focus will be motivating kids to get on board with healthy habits in order to build strong and happy bodies. Many new books have been added to our children's collection which aim at doing just that. Look for books on "kid-approved" exercises as well as enticing cookbooks that will have kids eagerly busy in the kitchen. These and more will be displayed atop our children's bookshelves.
The Busy Body Book – A Kid's Guide to Fitness by Lizzy Rockwell
Suggested ages: 4-8 years
The Busy Body Book opens with brightly colored illustrations of kids engaging in a variety of physical activities – from yoga to biking, from dancing to skateboarding. Scientific diagrams follow, showing our skeleton, muscles, brain and nerves, lungs, and heart and blood vessels. Each graphic contains simple explanations of the various body parts bolstered by interesting facts. The book is an inviting introduction to our remarkable bodies. It ends with suggestions for activities that keep kids' bodies in tune and strong. Specific ideas for stretching, strengthening, deep breathing, moderate activities and aerobic exercises are enumerated. These are activities in which parents can join right in, so this summer, "Get Moving!
---
JUNE 17: YOGA 
Presenter Deborah Gullo of Yoga Crossroads will share the book, My Daddy is a Pretzel, while children are taught various yoga poses.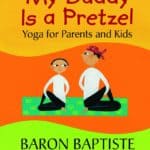 My Daddy is a Pretzel by Baron Baptiste, illustrated by Sophie Fatus
Suggested ages: 4-8 years
My Daddy is a Pretzel is not only a "how-to" book for yoga but also one that illustrates the importance of mind, body, and spirit in all our lives. It begins with an introduction aimed at the adults in a child's life and their importance as role models while children experience life and begin to build healthy habits. The core of the book is a clever introduction to nine yoga poses by connecting them to the jobs parents may have. Each pose is explained step-by-step with clear and simple descriptions along with corresponding diagrams. The book ends with valuable "Tips for Young Yogis" with the reminder that each child knows his or her body best. Each is in charge as he explores the world of yoga.
---
 JUNE 24: DANCING AROUND THE WORLD 
Folksongs, dances, and instruments from a variety of cultures.
 French Playground  African Playground
These CDs are an enriching addition to the June 24 program. Look for them with the children's CDs on the far wall.
Both come with booklets, which supplement the music. With French Playground the words to each song are printed in both French and English along with a brief introduction to each. The African Playground booklet includes a short "intro" to Africa with an emphasis on African music, followed by a glossary of terms and a few colored photos. Next come pages devoted to each song on the CD providing background on the song's country of origin as well as commentary on the specific song. Not only will the music get you and your child dancing, it may lead to a geography lesson as well!
---
JULY 15: SUMMER CIRCUS OLYMPIC GAMES
The children will join in the circus acts, and PCL's circus books will be on display, including –
Three-Ring Rascals, Book 1: The Show Must Go On by Kate Klise illustrated by M. Sarah Klise
Suggested ages: 6-8 years
Children will find this rollicking circus story, with both heroes and a despicable villain, to be an easy and engaging read. It is an appealing beginning chapter book. Sir Sidney's circus entertains with not only amazing acts but with happy and well cared for animal performers. But Sir Sidney is aging and in need of a week's furlough. He hires Barnabas Brambles, a clever con artist, motivated only by greed and fame, to temporarily take charge. One misfortune follows another due to Barnabas's self-serving ways as he ignores the animals' proper care. What will become of Sidney's famous circus?
All of the "three-ring rascals" are endearing characters from the two mice, Gert and Bert, who cleverly create new words, to Elsa the Elephant and Leo the Lion who are always there for one another. The importance of kindness to others is a thread throughout the story. On each page children will find amusing drawings, which often include speech bubbles, signs, letters, lists, and even phone texts. All add to the fun.
---
May 2016
Every January the American Library Association announces award-winning children's books for the previous year in various categories. I will highlight a few of the 2016 award books in this edition and continue with this focus in a further edition.
THEODOR SEUSS GEISEL AWARD – Given to the author and illustrator of the most distinguished book for beginning readers published in English in the United States. This year the award went to Don't Throw It to Mo!
Don't Throw It to Mo! by David A. Adler, illustrated by Sam Ricks
Mo loves football! His beloved football is almost always tucked under his arm even in sleep. Mo is the youngest and smallest on his team, the Robins. He endures the teasing from his teammates and the fact that he is usually a bench warmer. This does not dent his enthusiasm, however, as he perseveres in practice, never giving up. Fortunately for Mo, he has a coach who believes in him. When the Robins find themselves losing against the Jays, Coach Steve comes up with a clever plan that turns "butterfingers" Mo into the hero of the day!
Don't Throw It to Mo! is a Penguin Young Readers book, Level 2: Progressing Readers. The text is made up of sentences of varying length and contains dialogue and occasional repetition. The pictures provide clear clues not only to the story's narrative but to the character's emotions as well. The perspective and focus of the illustrations add drama to this simple but satisfying tale.
The Geisel Honor Books are listed below, all of which are in our collection.
A Pig, a Fox, and a Box, written and illustrated by Jonathan Fenske
Supertruck, written and illustrated by Stephen
Savage Waiting, written and illustrated by Kevin Henkes
RANDOLPH CALDECOTT MEDAL – Awarded to the artist of the most distinguished American picture book for children. This year the award went to Finding Winnie.
Finding Winnie, The True Story of the World's Most Famous Bear by Lindsay Mattick, illustrated by Sophie Blackall
My seven-year-old granddaughter and I recently shared Finding Winnie. We both found this backstory of Winnie the Pooh to be fascinating. For my own part, I fondly remember my parents reading to me A. A. Milne's original Winnie the Pooh. And today children, such as my granddaughter, continue to giggle at the predicaments Pooh finds himself in. I had been aware there really was a Christopher Robin and a stuffed bear called Winnie the Pooh along with the fact that the author, A.A. Milne, was Christopher's father. But that was the extent of my knowledge. Little did I know that the original Winnie was a real bear named after the Canadian city of Winnipeg. In 1914 Harry Coleburn, a veterinarian on his way to the front in France to serve as a doctor for horses in World War I, rescued this bear and chose his name. The author, Lindsay Mattick, who is the great-granddaughter of Captain Coleburn, expertly weaves Winnie's true story from the time Winnie became a beloved member of Coleburn's army regiment in Canada to his days at the London Zoo where Christopher Robin entered his life. The book's language perfectly fits its audience.
Simple graphic prose is interspersed with realistic dialogue including questions and observations of Cole, Ms. Mattick's son to whom she is relating this intriguing story. An "Album" appears at the book's end which includes photos of Coleburn in uniform with Winnie as well as one of Winnie and Christopher Robin in 1925 at the London Zoo. (You will have to read the book to see how Christopher became a part of this story!)
Not only does the marvelous writing contribute to this gem of a book but also Sophie Blackall's illustrations, for it is the artist who is awarded the Caldecott Medal. Ms. Blackall's lovely watercolor washes, done in muted shades, gently draw the reader into the story. She employs a variety of perspectives from close ups to expansive and detailed landscapes all of which clarify the narrative. The small circular pen and ink drawings, showing Cole and his mother, Lindsay Mattick, occasionally appear along with Cole's comments and questions. These nicely remind the reader of the narrative frame.
Besides being an engaging true-life story, Finding Winnie also illustrates the "impact one small, loving gesture can have," as Ms. Mattick writes in the book's dedication – a thoughtful reminder to leave with the reader.
The Caldecott Honor Books are listed below.
Trombone Shorty, illustrated by Bryan Collier, written by Troy Andrews (on order)
Waiting, illustrated and written by Kevin Henkes (in our collection)
Voice of Freedom: Fannie Lou Hamer, Spirit of the Civil Rights Movement, illustrated by Ekua Holmes, written by Carole Boston Weatherford (in collection)
Last Stop on Market Street, illustrated by Christian Robinson, written by Matt de le Peña (on order)
PURA BELPRÉ ILLUSTRATOR AWARD – Given to the illustrator who best portrays, affirms and celebrates the Latino cultural experience in an outstanding work of literature for children and youth. The 2016 award was given to Drum Dream Girl.
Drum Dream Girl: How one Girl's Courage Changed Music illustrated by Rafael López, written by Margarita Engle
One has only to turn to this book's exquisite endpapers to begin to understand why Drum Dream Girl received the Pura Belpré Illustrator award. The book's double- spread illustrations appear to joyously move across the page. Scenes vibrate with color and design, beautifully reflecting the Latino culture. Paired with the artwork is the poetically written tale of a young girl on an "island of music" who dared to dream of playing the drums. But she played only in her imagination, on tabletops at home or in secret when alone, for the islanders believed drums should only be played by boys and men. However, the girl was relentless in reaching for her dream. At last her father sent her to a music teacher who was astounded by her talent. Through his guidance and her practice, a girl drummer was born who joyously shared her music with others. Drum Dream Girl was inspired by a Chinese-African-Cuban girl, Millo Castro Zaldarriaga, who was determined to break Cuba's traditional taboo forbidding women to play drums. Zaldarriaga became a firstclass musician playing on the world stage before such renowned figures as President Franklin Roosevelt.
Belpré Illustrator Honor Books Mango, Abuela, and Me, illustrated by Angela Dominguez, written by Meg Medina (in collection) Funny Bones: Posada and His Day of the Dead Calaveras, illustrated and written by Duncan Tonatiuh (in collection) My Tata's Remedies, illustrated by Antonio Castro L., written by Roni Capin Rivera-Ashford (on order)
---
April 2016
Escape from Mr. Lemoncello's Library by Chris Grabenstein
Suggested Ages: 8 – 12 years
There's nothing more enticing for children than a mystery coupled with fantasy and puzzles. Escape from Mr. Lemoncello's Library provides all three in this light-hearted read. The new library in Alexandriaville is about to have its grand opening. Based on an essay contest, twelve students are chosen to take part in the celebration. Kyle and eleven of his classmates, winners of the contest, will be the library's first patrons during a "library lock-in" which includes a sleep over. To add to the excitement, the famous Mr. Lemoncello of the Imagination Factory, producer of famous board games, videos and puzzles, is the library's benefactor and sponsor of the festivities. The library has been constructed in complete secrecy and so these twelve will be the first to experience its marvels, which include the Wonder Dome (ten video screens depicting continually changing images related to the Dewey Decimal categories), and talking holographic statues of true and imaginary characters. For a 12-year-old, what isn't there to like! However, once in the library, the students must discover the secret way out. Not only must they perceive what are valid clues placed deliberately throughout the building but also solve various riddles and rebus puzzles. The reader finds herself attempting to unlock these mysteries as well, which makes this book a page-turner. Many literary references are found throughout, which the well-read young person will love. During the contest, Mr. Lemoncello emphasizes the importance of how one plays the game. Good deeds are rewarded. And finally, this unusual contest becomes an opportunity for the young contestants to realize that the library is not a mere collection of books, but "a place to learn, explore, and grow."
Library Lion by Michelle Knudsen, illustrated by Kevin Hawkes
Suggested Ages: Preschool – 7 years
Library Lion is an endearing tale for young ones about a lion who disrupts the decorum of Miss Merriweather's library. However, the children have fallen in love with him and the librarian comes to realize he can be quite helpful in the day-to-day workings of the library. (Such by-gone features as a card catalog and mailed overdue notices are an opportunity for the adult to explain to their young companion aspects of libraries from not-all-that-long ago!) Nevertheless, the rule that Miss Merriweather most emphatically stresses is that a library must be quiet. Any roaring by the lion and he would be shown the door. But then something unexpected happens and a roar erupts from the lion who is then quickly banished from the premises. Humiliated, he does not return, but soon he is missed by all. Children will be relieved that the story's resolution is a happy one. Libraries ought to be welcoming havens. And at times there are good reasons to break a rule!

Wild About Books by Judy Sierra, pictures by Marc Brown
Suggested Ages: Preschool – 6 years
Rather than the more common "brick and mortar" library, Wild About Books features the bookmobile. What makes this bookmobile unusual is that it is mistakenly driven into the zoo. Though the animals are at first hesitant, they soon become entranced with what books have to offer. Each of the numerous animals who populate this story find books that are a perfect fit. Ms. Sierra writes in rhyming couplets to which children will have a natural affinity and upon subsequent readings will delight in completing on their own. Marc Brown, the creator of the many picture books starring Arthur the aardvark, has crafted the colorful folk-like artwork. Children will love identifying the various animals he paints along with discovering familiar book titles in his illustrations. Eventually, the animals themselves excitedly discover they too can be authors. For reading often begets writing and the animals find they are inspired to create their own literary contributions. And so this tale may motivate many a child to take pencil in hand and become authors themselves.
---
March 2016
Check out these additions to our collection and many others displayed atop the lower children's bookshelves.
Firefly Hollow by Alison McGhee
Suggested ages: 7 – 11 years
Firefly Hollow is a lovely tale of dreams and aspirations, which propel one to take risks while believing in one's own possibilities. Within its pages are also the magic of finding one's own "kindred spirit" and learning to face loss as life moves forward. Firefly's dream is to someday fly to the moon, that huge mysterious sphere in the night sky. She gazes up on it when she flits and flies at night, glowing with her own internal light along with the rest of the "firefly nation." Cricket, on the other hand, wants to be a cricket version of Yogi Berra. If he could only catch objects as well as the famous baseball catcher caught balls, he could better protect his fellow crickets from falling objects. Cricket and Firefly develop a binding friendship as they support one another in their quest to reach extraordinary goals. An unusual turn of events is the extension of this friendship to a third, Peter, a miniature giant. Giants are humans who, to these small insect creatures, seem quite terrifying. Peter is a young boy who is coping with the loss of his best friend, Charlie. Cricket's and Firefly's friendship provide Peter with the necessary strength and hope to meet his own personal goal. Ms. McGhee writes with sensitivity, expertly weaving this tale of fantasy and realism. Beautiful full-page color plates by Christopher Denise add delight to this special book.
Scritch Scratch Scraww Plop! by Kitty Crowther
Suggested ages: 3 – 7 years
Jeremy is afraid of the dark. Mom is there by little frog's side as he performs the typical bedtime routines. Then Daddy reads the good night story. After repeated hugs and kisses, Jeremy's parents leave with the light on in the hallway and now he is left alone with his imagination. It's then that the sounds of scritch, scratch, scraww, plop keep his eyes wide open. After anxious trips to his parent's bedroom, Jeremy finds comfort snuggling between Mom and Daddy. But Daddy frog cannot sleep with his squirmy son and so in the middle of the night, he sleepily heads to Jeremy's bed, hoping for calm and quiet. However, then the noise of "scratch, scratch, scraww, plop" startles him awake. Together Jeremy and his dad discover the sources of these peculiar noises and in so doing, Jeremy finds comfort in the sounds of night that are all around us. A reassuring book for young ones who find giving in to sleep not an easy task!
How the Sun Got to Coco's House by Bob Graham
Suggested ages: 4 – 6 years
In beautifully poetic language, Bob Graham chronicles the sun's path across our earth. He begins the sun's journey at the North Pole. As the sun travels, it touches seas, cities, deserts. The sun glances off the small individual aspects of our living world – a whale's eye, a child's footsteps, a bird in flight. It shines down upon countries and cities intriguing in their variety. Meanwhile, Coco has slept soundly. But now the sun's beams finally arrive on Coco's street. The sun becomes part of her day, shining down on Coco, her family and friends. Mr. Graham's evocative watercolors graphically showcase for children the movement of the sun as its rays touch people and animals in varied settings across our world.
Professor Astro Cat's Frontiers of Space by Dr. Dominic Walliman, designed and illustrated by Ben Newman
Suggested ages: 8 – 11 years
Though aimed at the 8-11 year old crowd, this beautifully constructed non-fiction book is bound to be engrossing to their parents as well. It focuses on galaxies, stars, our solar system, and space travel. At its end, it delves into fascinating speculations regarding future space travel and what life might be like on other planets. Professor Astro Cat, along with his assistant Astro Mouse, takes the reader on an informational journey through space. Each page is chock full of enthralling facts. The text, arranged against various colored backgrounds, is accessible and presented in a conversational tone with humor interspersed throughout. To bolster the writing are numerous graphics that clarify the concepts presented. Professor Cat is adept at relating amazing space facts to content and experiences with which a young person might be familiar. The pages are also often populated with a menagerie of animals, drawn in simple geometrics, who are Professor Cat's enthralled students. This is a book that invites exploration. One can open it to any page and be completely engrossed. Professor Astro Cat's Frontiers of Space will entice its readers to frequent revisits.
---
February 2016
The Liberation of Gabriel King by K. L. Going
Suggested ages: 9–12 years
Gabe and Frita, of 1976 rural Georgia, are best of friends. As Gabe tells it, before Frita there was "a Frita-sized hole right next to me." They have completed fourth grade and with summer upon them, spunky Frita declares that Gabe needs to be "liberated" from his daily fears and she has just the plan. She instructs Gabe to write a list of his anxieties. His biggest fear, which he puts at the top of his list of 38, is fifth grade bully Duke Evans, who also lives in Gabe's trailer park. Duke so unnerves Gabe that he swears he will not move up to 5th grade for then he will have to endure the same recess as Duke and his buddies. Frita has a few fears of her own and eventually creates her own list as a support to Gabe. Thus summer's focus for these two friends is checking off their fears from spiders to using the rope swing over the catfish pond. Their efforts provide for some humorous situations. Gabe and Frita's story takes place against the historical backdrop of Jimmy Carter's run for president along with the issues of integration and racial acceptance. Concepts such as faith, perseverance and courage are explored as well as the importance of family and friendship. In the end, Gabe finds that confronting one's fears is possible when you've got people you love. This, in turn, can lead to bravery, regardless of what one must face.
The Year of the Book by Andrea Cheng, illustrated by Abigail Halpin
Suggested ages: 6-9 years
Friendships can be confusing especially when they don't always seem reliable. This is the case when Anna Wang's best friend, Laura, begins to spend more time with Allison and Lucy. Suddenly, 4th grade loses some of its appeal and enjoyment. However, Anna, with her love for reading, always has her books to turn to which bring her comfort and escape. As the year progresses, Anna begins to negotiate her way through her eight year old life. She begins to see beyond the surface of others, getting a glimpse of their complexities. And she recognizes that friends come in many forms, from Ray, the crossing guard, to Mr. Shepherd, whose apartment Anna's mother cleans. This book helps children see that simple kindness to others adds joy and dimension to one's own life. Ms. Cheng's writing is very accessible to her young readers and is supported by Abigail Halpin's appealing pen and ink illustrations throughout.
The Invisible Boy by Trudy Ludwig, illustrated by Patrice Barton
Suggested ages: 5-8 years
Many of us have occasionally had the sensation of being inconsequential in social or work gatherings. Children too have times when they feel invisible. Brian is the "invisible boy" in his classroom, rarely noticed by his teacher and ignored by his classmates whether choosing teams or eating lunch. Brian's solace is the imaginary world he creates with his cartoon–like drawings of fire–breathing dragons and superheroes. Then a new student, Justin, joins his classroom. Brian's acts of thoughtfulness and risk-taking bring rewards to both boys showing the importance of each. Patrice Barton, the illustrator of this picture book, initially draws Brian in muted shades of gray. As the book progresses, Brian gradually loses his cloak of invisibility and takes on the bright colors of his classmates.
George and Martha – Round and Round by James Marshall
Suggested ages: 4-7 years
Tales of friendship would not be complete without George and Martha, the hippopotamus best friends from 25 years ago. One cannot help but find these two hippos endearing – Martha for her cleverness and George for his forthrightness and sincerity. Children will giggle at the predicaments George frequently finds himself at the end of each of the three stories included in this collection. Just as with real friends, differences arise, but in the end best friendships survive. The tales are enhanced by James Marshall's brightly colored illustrations across from each page of text. It is a perfect beginning chapter book.
---
January 2016
Fish in a Tree by Lynda Mullaly Hunt
Suggested ages: 9–12 years
Fish in a Tree tells the story of Ally, a sixth grader who is trying to fit in and be accepted by her classmates, especially the "popular" girls. She has exceptional talent in art and math but is challenged by reading and writing. Ally attempts to hide from others her frustrating inability to make sense of the printed page – the letters often appear to move and simply confuse her. Along with Ally's struggles in school, she is coping with her father's being overseas in the military, as well as the recent death of her dearly loved grandfather. Fortunately, two classmates, Keisha and Alford, become her stalwart friends. Like Ally, they both think and act outside the box. They bring a genuine humor to the story. Another lifeline for Ally is her teacher, Mr. Daniels. He exhibits enthusiasm, creativity, and patient understanding in his approach to teaching. He is a teacher under whom a young person could blossom. The personalities of the book's characters all ring true. Their voices are authentic due to the author's keen perceptions and talented writing.
Fish in a Tree will have a ready appeal to preteens. It offers up quirky characters and a realistic storyline dealing with finding one's place in the sometimes alien and unsupportive world of school. It leaves the reader with the encouraging thought that we can all change the "impossible to possible."
Happy! by Pharrell Williams
Suggested ages: 3-7 years
Pharrell William's hit song from the movie Despicable Me 2 is the basis for this colorful, joyful picture book. Photos of children from diverse backgrounds show them decked out in delightful getups as they glow with gleeful smiles befitting the song's words. Paper cutout props go further to support the lively and whimsical action. The words read more easily if one is familiar with the rhythm of Mr. William's song. (Check out Pharrell Williams – Happy (Despicable Me 2 – Lyric Video on YouTube.)
The book ends with a letter from Pharrell Williams to his young readers about the important job of being a Happy Helper to family, friends, and others. A nice final "note" indeed!
I Survived the Japanese Tsunami, 2011 by Lauren Tarshis
Suggested Ages: 7 – 10 years
Here is an account of what it might have been like to have lived through the Japanese Tsunami of 2011, as seen through the eyes of a fictional character, 11-year-old Ben Kudo. Ben, along with his mother and brother, are visiting his uncle in Japan. It has only been a few months since his father, who had been a fighter pilot in Afghanistan, died in a car accident in their home state of California. The empty hole in Ben's life is overwhelming, but it is his father's inspiration which helps him survive the roiling waters of the tsunami. Ms. Tarshis' retelling of this harrowing event is a page-turner featuring a character with whom children will readily identify. This fictional story is followed by the author's short recounting of how the Japanese tsunami was actually a "triple disaster." Here the author also expresses her admiration for the Japanese people and their determination to move forward. In addition, the afterword includes basic scientific facts, along with map and diagram, about the 2011 Tohoku earthquake and tsunami, followed by a list of sources for further reading.
 This book is one of thirteen in the I Survived series. Each follows a similar structure as detailed above. Besides The Japanese Tsunami, 2011, we also have recently added to our collection I Survived the Great Chicago Fire, 1871 and I Survived the Joplin Tornado, 2011.
I Am Malala, How One Girl Stood Up for Education and Changed the World by Malala Yousafzai with Patricia McCormick
Suggested ages: 10-17 years
This is the young reader's edition of Malala Yousafzai's popular memoir. Malala, Nobel Peace Prize winner, recounts her life in Pakistan both in her home and at school. She details the ramifications of the Taliban's presence in her country. In telling her story, Malala emphasizes the importance of an education and the influence her family had on her as she advocated for girls' education along with human rights everywhere. Malala is without a doubt an inspiration to all. Young people who become familiar with her story will no longer take their schooling for granted but instead will look upon their access to an education with new eyes.
---
December 2015
The Day the Crayons Came Home by Drew Daywalt, illustrated by Oliver Jeffers
Suggested Ages: 5-8 years
If your child (and you!) absolutely loved The Day the Crayons Quit, then The Day the Crayons Came Home is a must read. Several of Duncan's crayons are quite disgruntled as they have been left stranded by Duncan in such sundry places as between the couch cushions, under the basement stairs, or stuck to one of Duncan's socks after a spin in the dryer. As you might expect, some are in disrepair and in need of attention. The crayons send pleading notes to Duncan explaining their dire circumstances and asking (some demanding!) to be rescued. The crayons' messages are written on postcards with a realistic look, stamp and all, addressed to Duncan, Duncan's Bedroom, Duncan's House. After receiving a bundle of these postcard petitions, Duncan feels compelled to come to his long lost crayons' rescue. But due to the various mishaps that many of the crayons endured, they no longer fit nicely in Duncan's crayon box. Never fear – Duncan finds a creative solution that thoroughly satisfies his colorful friends!
The Right Word, Roget and His Thesaurus by Jen Bryant, illustrated by Melissa Sweet
Suggested ages: 7-10 years
Words, words! They have the ability to inspire, comfort, excite, persuade. In our speech and in our writing we often search for just the "right word" to express a thought. This book is the story of Peter Mark Roget of Thesaurus fame. Born in 1779, Roget as a child was fascinated with words. Being a quiet and often solitary child, he turned to books which were always dependable friends. At 8 he decided to write his own book, but instead of a story, he wrote lists – lists of words. Over the years, as he expanded his lists, he began to create categories for the words he was accumulating – weather, plants, feelings, etc. The Right Word goes on to highlight significant events and accomplishments in Roget's life. Besides becoming a doctor, a long-term goal remained with him: to put together a book that anyone could use when searching for just "the right word." In 1852 Roget completed the book we all now know as the thesaurus, which means "treasure house" for it is truly a treasure house of words.
Author Jen Bryant writes Roget's story with an eye to her reader, having just enough text to bring Roget's story to life. The creative arrangement of text, speech bubbles, and variety of fonts and colors will especially appeal to children. Melissa Sweet's added artwork is fabulous! There is so much variety and detail to explore on each page. Many are fascinating collages made up of pieces of Roget's first 1852 edition of his Thesaurus, as well as botanical prints, maps, old book covers, vintage pages, beautifully executed watercolors along with other mixed media. This most special book received two awards in 2015: The Robert F. Sibert Medal for the most distinguished informational book for young people and a Caldecott Honor Book.
Shackleton's Journey written and illustrated by William Grill
Suggested ages: 8 years and up
Tales of adventure have always appealed to young and old alike. Shackleton's Journey tells the amazing story of Ernest Shackleton and his crew whose goal it was to cross the polar continent of Antarctica. In 1914 they set sail in their ship, the Endurance, from Argentina traveling to South Georgia in the Atlantic Ocean and from there made their approach to Antarctica. So begins the courageous tale of 26 men and 69 dogs against the battering forces of polar conditions. After determinedly forcing its way through 700 miles of pack ice, the Endurance became stuck. The dark and freezing cold of winter had to be survived in hopes that spring would bring release. However, that never came to pass, and eventually the ship was crushed by the intense pressure of the ice from all sides. Now the expedition's mission was to persevere until they could be rescued. It would be two years from their expedition's beginning before that came about.
This incredible story demonstrates the vital importance of positive and creative leadership exhibited by Shackleton and others. It also reflects the truth that character, bravery, and cooperation can lead to success even under extremely dire conditions. Grill's colored pencil sketches artistically detail the expedition, from illustrations of each and every crew member as well as necessary supplies to double-page spreads portraying the massive forces of nature which the men encountered. A perfect picture book for those enthralled with true life adventures.
---
November 2015
This month we have new picture books that inspire as well as appeal to a child's world of imagination.
Special Delivery written by Philip C. Stead, illustrated by Matthew Cordell
Suggested ages: 3-7 years
Sadie is on a mission. Her Great-Aunt Josephine lives almost completely alone and Sadie is determined to provide her company. The book opens with Sadie walking to the post office with an elephant in tow. She discovers to her disappointment that it will require a wheelbarrow brimming over with postage stamps to send off her gift elephant to her dear aunt. She is not deterred, however, and tries a bi-plane, an alligator, a train taken over by bandit monkeys, and an ice cream truck to help her make her "special delivery." When Sadie and the elephant at last arrive at Great-Aunt Josephine's, the reader is met with a most unexpected scene! Sadie is drawn not only as a most caring niece but one who keeps her promises – even to alligators! The whimsical illustrations are an integral part of the story and creatively flush out the sparse text. In this day of e-mails and texting, the story might even inspire a child to share a picture or letter with another using a stamp and envelope!
The Adventures of Beekle, The Unimaginary Friend by Dan Santat
Suggested ages: 3-7 years
What child has not brightened his days with a dose of imagination, perhaps even creating an imaginary friend? The Adventures of Beekle begins on a magical island populated by a colony of amazing imaginary friends, each waiting to be called up by a child. But one such imaginary friend seems to always be left behind. Finally, he decides to take fate into his own hands and sets sail for the "real world." He searches for that special someone and at last finds his match. The little girl names him Beekle and, after some awkward moments, they bond and begin to share the childhood joys of everyday life. This book celebrates imagination and friendship, an integral part of a child's days. The Adventures of Beekle received the 2015 Caldecott Medal.
Star Stuff, Carl Sagan and the Mysteries of the Cosmos by Stephanie Roth Sisson
Suggested ages: 5-8 years
Star Stuff introduces children to Carl Sagan, the astrophysicist and educator, who through his TV program, "Cosmos", opened up the world of galaxies and space to millions of people around the globe. Over half this striking picture book is devoted to Carl as a boy. The pictorial setting begins with the Milky Way, which then collapses to the solar system, Earth, and Brooklyn, NY, in succession, finally ending in young Carl's apartment. This is a clever device to put our universe in perspective for children as well as to introduce Carl's investigation of the cosmos around us. The text briefly highlights Carl Sagan's contribution to our understanding of space. Notes at the book's end concisely expand much of the text for those wishing to know more. Star Stuff achieves two important ends. It introduces children to a very significant figure in space exploration and education. But perhaps more importantly, the book inspires. Let your curiosity take you on a journey – follow your dreams.
Mr. Cornell's Dream Boxes by Jeanette Winter
Suggested ages: 4-8 years
This book is an invitation to children to enter the magical world of Mr. Cornell's dream boxes – shadow boxes, "wonderlands covered in glass." It is told through the perspective of a child and what she might see as she passes Mr. Cornell's house or attends an exhibition of his boxes that he arranges specifically for children. The author and illustrator, Ms. Winter, represents Mr. Cornell's pictorial memories and ideas in ethereal violet shades as thought clouds. The dream boxes themselves, a product of these thoughts and dreams, are drawn in vibrant, bold colors. In the author's note, the reader learns that the real Joseph Cornell of Queens, New York, used engravings collected from bookstalls and various found objects to create his amazing boxes that have especially entranced children. This is a story of individuality and creativity that perhaps might motivate children to create their own dream boxes.
---
October 2015
We have over 70 new books that have recently arrived and have been cataloged! They are on display in various areas of the children's section of the library. They include picture books (Easy), juvenile fiction, nonfiction, and biographies. I have only highlighted three below. Make sure to stop by with your children and browse through the books marked with the "New" sticker.
Circus Mirandus by Cassie Beasley
Suggested Ages: 9-12 years
Reading can bring magic into children's lives. It may be through being transported to foreign surroundings, meeting new and fascinating people, or experiencing adventure and excitement apart from their everyday lives. However, a book that has fantasy and true magic interwoven throughout its tale is one which children will especially be drawn to. Circus Mirandus is exactly that. Micah lives with his Grandfather Ephraim who has often shared with him stories of a magical place, Circus Mirandus. He relates to Micah his boyhood adventures at the circus which sparkles with amazing performers and incredible sights. But now Micah's grandfather is gravely ill. Grouchy Aunt Gertrudis comes to stay with them to help out. Her presence steals away the joy and enchantment Micah shares with his grandfather. However, he discovers from his grandfather that Circus Mirandus is truly real and that its most talented magician, the Light Bender, has promised Ephraim a miracle. Micah is determined to travel to the circus and find the Light Bender. Perhaps the miracle that is due his grandfather can save him. Along with his new friend, Jenny Mendoza, Micah sets out on an adventure through which he discovers truths not only about himself but life as well. He experiences the special magic of family and friendship. Encompassing this story is the importance of keeping "enchantment alive in the world" and the interconnection of magic and faith. For Micah learns that one has to believe to see magic – the magic that is alive in all our lives.
Echo by Pam Munoz Ryan
Suggested Ages: 9-12 years
Echo is a trilogy of separate stories that are connected by the "silken thread of destiny." It opens with "A Witch, A Kiss, A Prophecy," a short magical tale which Otto begins reading in a forbidden forest while he waits out a game of hide and seek. There he is given an unusually melodious harmonica. Whoever possesses it finds within themselves the knowledge, intuition, and bravery needed to meet a life challenge. Several decades after Otto first plays this amazing harmonica it becomes part of the lives of three different children: Friedrich, who is desperately trying to save his father in 1933 Germany, Mike, who as an orphan hopes for a better life for his brother in 1935 Pennsylvania, and Ivy, who is striving to support her family during a difficult period in 1942 California. Historical background adds an authenticity to these children's stories. All three of these narratives come together in the end to create a satisfying finale to a skillfully crafted book. Not only is Echo a testament to the possibilities in life when met with determination and courage but also to the power of music which connects us all.
Mr. Putter and Tabby Turn the Page written by Cynthia Rylant, illustrated by Arthur Howard
Suggested Ages: 4-8 years
Mr. Putter and Tabby have been entertaining children for 20 years. Currently there are 24 books in this much-loved series. The books are beginning chapter books, with simple sentences, short chapters, large font, and colored illustrations on every page. The pictures not only support the text but expand it with a gentle humor. Topics in the series are everyday experiences to which most young children will be able to relate. In this particular volume, which was named a 2015 Theodor Seuss Geisel Honor book, Mr. Putter and Tabby share their love for reading. Mr. Putter decides to attend his local library story time when he sees the invitation to read aloud with your pet. He carefully selects a book which he feels children will find exciting. Besides his book, Mr. Putter brings along his neighbor, Mrs. Teaberry, and her dog, Zeke. Zeke provides just enough fun and mischievousness to enthrall young children and produce a few giggles.
---
September 2015
Contemporary alphabet books are no longer in the mundane "A is for Apple, B is for Ball" format. They now encompass non-fiction books with topics as far ranging as science, dinosaurs, Mexico and "amazing American women". Our ABCs have also inspired delightful picture books, which radiate humor and creativity.
Z is for Moose by Kelly Bingham, pictures by Paul O. Zelinsky
Suggested ages: 4-8 years
The title foreshadows that this is no ordinary alphabet book and yet it begins with the tried and true "A is for Apple, B is for Ball". However, when the page is turned to "D", Moose proudly appears, exasperating the Zebra who plays the alphabet referee. With no uncertainty, Zebra informs Moose that he is on the wrong page. From then on the humor begins as Moose comically tries to insert himself on pages where children will readily see he does not belong. Zany illustrations and dialogue in comic strip balloons show Moose desperately trying to find his proper place until he sees he has been skipped over. Here he becomes most frustrated and his antics will have children giggling. However, all is nicely resolved in the end with a happy twist to "Z is for…"
(If children enjoy Z is for Moose, they will also love Circle, Square, Moose by the same team of Bingham and Zelinsky. You will find it in our collection as well.)
Backseat A-B-See by Maria van Lieshout
Suggested ages: 3-5 year
This book lends itself perfectly to introducing letters and words to children through environmental print – letters and words that children see in their everyday surroundings. The book opens with a child peering out of the car window as the adult drives down the blacktopped road. What does he see? Familiar road signs, each representing an alphabet letter with word and well-known symbol – A is for Airport, B is for Bike Route, and so on. The signs appear in color and shape just as they do along the highway, standing out boldly against the black page. Children will love pointing out these same signs as they ride along in the car. Several pages introduce what may be new vocabulary – detour, junction, merge – from which even an older brother or sister can learn. After you check this book out for a few weeks, you may want your own copy to keep in the back seat!
Antelope, Bison, Cougar, A National Park Wildlife Alphabet Book by Steven P. Medley, illustrated by Daniel San Souci
Suggested ages: 3 – 9 years
Antelope, Bison, Cougar presents the many varied animals – mammals, birds, reptiles – which can be found in our national parks. Each species is shown in a different park illustrating the diversity of natural environments encompassed by our park system. Every page includes the animal's name, interesting facts about that animal and a short summary of the attributes of the highlighted national park. The full-page illustrations for each animal are gorgeous watercolors showing the specified animal in its park setting. An appendix in the back includes a map showing the location of the national parks, monuments and seashores included in the book as well as contact information. A toddler will find enjoyment simply learning the name of the animal and studying the accompanying picture, while an older child will find much to learn as she reads further, absorbing new details about these amazing animals.
Q is for Quark, A Science Alphabet Book by David M. Schwartz, illustrated by Kim Doner
Suggested ages: 9-12 years
Here is an alphabet book which can be delved into over time as it is chock full of so much fascinating material. Parents can't help but learn some new facts as well while perusing its pages. Topics vary from atoms to black holes, from music to DNA – and yes, even quarks! The book's information is very accessible. It is written with a sense of what appeals to kids – biggest, smallest, fastest, weirdest, etc. Expressive and colorful illustrations along the page margins interject humor while reinforcing the longer explanations. One topic might open up a whole new world that the young reader may wish to explore by performing some experiments, engaging in careful observations or simply doing more reading. What more could one ask for from a book!
---
August 2015
August is here and with it comes the beginning of a new school year. Fresh experiences and first-time discoveries lie ahead for children. Below are highlighted a few books from our collection which not only encompass school settings but extend far beyond, touching on relationships, self-discovery or just plain fun.
Dancing Home by Alma Flor Ada
Suggested Ages: 8-12 years
What does it feel like to be a new immigrant from Mexico, trying to fit in with classmates? Lupe has come from across the border to live with her aunt, uncle and cousin. One of her wishes is to see her father who had illegally come to the U.S. to find work. Lupe struggles not only with learning a new language and becoming accustomed to an unfamiliar school but also with being accepted by her cousin, Margarita/Margie. Margie's parents were born in Mexico, but Margie is American, born in Texas. She is determined that her classmates see her as pure American,  just as they are. In so doing, she rejects her parents' native Spanish language, as well as many of their country's customs. Lupe's arrival complicates Margie's wish when her parents begin using more Spanish and bringing back some of their native traditions in order to help Lupe feel more at home. As a result, Margie resents her cousin and at school is embarrassed by her struggles with English and her ignorance of American ways. In the end, the colorful Mexican dance, folklórico, provides a means for both girls to dance to their own inner tune. They each discover the richness in their individuality as they take pride in their own heritage. The book illustrates the significance of home and family while shedding light on the experience of being an immigrant.
Pete, the Cat, Rocking in My School Shoes by Eric Litwin, art by James Dean
Suggested ages: 4-8 years
Pete the Cat has become a picture book favorite of young ones. Here he experiences school for the first time decked out in his bright red school shoes, singing a snappy, rocking song. What child does not feel more confident and gleeful in a new pair of school shoes! The reader accompanies Pete as he explores his school from the library to the playground and delights in school activities from painting to writing. The colorful and energetic artwork leaves no doubt that Pete the Cat finds school one groovy trip! The book includes a website where children can listen to Pete's hip song and discover other Pete the Cat downloads.
My School in the Rainforest – How Children Attend School Around the World by Margriet Ruurs
Suggested ages: 7-10 years
Both parents and children will find this book fascinating. It is a photo essay depicting schools around the world as varied as a floating school in Cambodia where students paddle their boats to class to a school in the jungle of India where children sit on a dirt floor with no roof above them, surrounded by walls of tropical plants. Many of the schools have little in the way of supplies – books are treasured. In contrast, there is the International School in Malaysia and a boarding school in Scotland where attractive buildings and school supplies are plentiful. The common thread, which connects these students around the world, is their desire for an education. No matter in what setting, the children hope to learn, make friends and become part of a community. This book is a perfect vehicle to motivate family geography lessons. Being written in 2009, it also piqued my curiosity as to what I could find out about these schools on the internet six years later. Have fun exploring!
Danny's Doodles, The Jelly Bean Experiment by David Adler
Suggested ages: 7-10 years
Danny's first person narrative, in short, direct sentences, tells of his school days and his new friend, Calvin. His expressive doodles contribute to this being a perfect beginning chapter book. Danny declares that Calvin is "100% weird." Nevertheless, he consents to being a part of Calvin's jelly bean experiment. While Danny does what is expected of him in school, Calvin enjoys pushing the envelope when it comes to school rules. His talent lies in "reading people" which leads to Danny's discovery that being different can sometimes lead to something most worthwhile! This is the first of a recently new series.
---
July 2015
As our Summer Reading Program continues into July with the theme of heroes, so does the focus on books with heroes both imaginary and true.
Ophelia and the Marvelous Boy by Karen Foxlee
Suggested ages: 8 – 12 years
The heroine in this book is Ophelia who accompanies her father and sister to a city which exists in an eternal winter. Ophelia's father has acquired a job in the city's museum. The seven-floor museum not only contains innumerable and varied collections but also seems to embrace much that is mysterious and dangerous. As Ophelia explores this new environment, she meets the "marvelous boy" locked behind a small door. He recounts to her the story of how he came to be there and so the book develops as a story within a story. It falls to Ophelia to try to rescue the boy and help save the city from the fate of the Snow Queen's powers. Throughout this tale of fantasy, life-sustaining truths are interwoven such as the importance of listening to one's heart, the power of kindness, and the worthiness of never giving up.
The Cats in Krasinski Square by Karen Hesse
Suggested ages: 7 – 10 years
During World War II there were heroes of many types including even children. The Cats in Krasinski Square tells one such story of courageous heroism with simple direct text along with Wendy Watson's pen, ink, and watercolor illustrations done in muted shades of browns and grays. The setting is Warsaw, Poland, and the Ghetto where Jews were forced to live under the Nazi occupation. The tale is recounted by a young girl who tells of a plan which her sister and friends have developed in order to smuggle food inside the Ghetto. The plan appears to be foiled by the Gestapo, but the narrator finds a clever way, with the aid of Warsaw's unwitting stray cats, to get the food to the desperate people living behind the Ghetto wall. And so both the young people and the cats become heroes. An author's note provides historical background to this story of bravery and heart.
The Watcher – Jane Goodall's Life with the Chimps by Jeanette Winter
Suggested ages: 4-8 years
Jeanette Winter, author of The Librarian at Basra (reviewed in June), has illuminated for children another hero. Jane Goodall, through her solitary dedication to observing the lives of chimpanzees, brought awareness of these amazing creatures to the outside world. Not only did she add to our knowledge and understanding of chimps, she fought tirelessly for preservation of their environment. She also spoke out against the poaching and capturing of chimpanzees. The book begins with Goodall as a young girl depicting her fascination with the animal world. What child has not wondered at a line of moving ants focused on a set destination or a lizard stretched out in the New Mexican sun. Thus most children will be immediately hooked into this true tale, as they too have experienced that same sense of wonder observing nature as did Jane Goodall as a child. The author then focuses on Goodall's life with the chimpanzees as they slowly accept her, followed by the insights she gains regarding their life and habits. Ms. Winter ends with the recounting of Goodall's passionate mission to help preserve the chimpanzee population and their environment in Africa. Her acrylic paint and pen illustrations have the look of folk art with her use of flat colors reflecting nature's hues. Author's notes supplement the story with interesting detail and insights.
Freedom Walkers – The Story of the Montgomery Bus Boycott by Russell Freedman Suggested ages: 9/10 years and up
Russell Freedman is well known for his pictorial accounts of events and figures in American history written for young people. Freedom Walkers focuses on a pivotal event that is the precursor to the Civil Rights Movement. The story of the Montgomery Bus Boycott lasted 13 months. Mr. Freedman, as one might expect, writes of the roles such famous figures as Rosa Parks and Martin Luther King, Jr., play in this historical drama. In addition, Mr. Freedman introduces others who played a significant part in this turning point in our American history. He brings these people and events to life with just enough detail to keep the reader engaged. Perhaps most importantly he highlights the bravery and determination of ordinary black citizens who sought freedom and dignity in their lives. All are heroes. This is a book that lends itself to family sharing. It encourages thoughtful discussion of our American past as well as the importance of standing up for freedom and equality.
---
June 2015
The theme for the Placitas Library's Summer Reading Program is "Every Story Has A Hero." Our lives are filled with many heroes who change lives in big and small ways. A hero may be someone who pushed history to change in a positive direction or possibly an individual who took time from his or her busy life to help someone else in need. Children's books focusing on heroes include true historical figures as well as fictional heroes, humans or animals, who come to the rescue of another living being in a time of need or who dedicate their life to further compassion, knowledge or freedom. The books below cover a variety of such heroes from a true-life librarian from Iraq to a fictional gorilla who comes to the rescue of an elephant.
The Librarian of Basra: A True Story from Iraq written and illustrated by Jeanette Winter
Suggested ages: 6 – 10 years
This picture book is based on the true story of Alia Muhammad Baker who was the chief librarian of the Central Library in Basra, Iraq in 2003. It is the time of the Iraq War and Alia is worried the library's precious collection may not survive the war. She takes matter into her own hands and determinedly rescues the books, hiding them in her home and a near-by restaurant. She saves 70% of the collection before the library is destroyed. This simply told story is supported by elegantly colorful illustrations done in acrylic and pen. The book's tale is a powerful message that one person can make a difference for many others.
Max by Bob Graham
Suggested ages: 4 – 7 years
Max is born into a family of superheroes. Although he has the requisite cape, tights and even eye mask, Max cannot manage the skill of flying. Even hovering a bit is beyond Max's capabilities. His parents, Captain Lightning and Madam Thunderbolt, remain loving and supportive but Max does face teasing at school by students who point out he dresses as a superhero but shows no sign of performing the amazing feats of his parents. Things, however, are soon to change for Max when he sees a baby bird about to fall from his nest. His superhero characteristics at last kick in. But in the end, Max is a superhero of a different bend from his parents. His deeds are not flashy. As his mother says, he is "a small hero doing quiet deeds." In the end, the book subtly points out that we can all be heroes in our day-to-day life. The cartoon-like illustrations are colorful and exuberant. They require careful "reading" by the child for they are a vital and humorous part of the story's action.
The One and Only Ivan by Katherine Applegate
Suggested ages: 8 – 12 years
It is no wonder that The One and Only Ivan has won a Newbery Medal. It is a gem. Its hero is Ivan, a silverback guerilla who has lived the majority of his life in a cage at the Exit 8 Big Top Mall and Video Arcade. His companions include Bob, a dog of "uncertain heritage" who has made his home with Ivan, a mature elephant, Stella and 10 year old Julia, the daughter of the man who cleans the mall each night. The story is told in Ivan's voice. He is a sensitive creature who tries to understand others' – humans' or animals' – motivations. Using concise statements, Ivan makes perceptive observations throughout the story: "Humans love their words." ; "Gorillas aren't by nature pouters.". One of his favorite pastimes is drawing. He remarks, "When I draw, I feel quiet inside." His love of drawing takes on more import as the story develops. When a young elephant, Ruby, is added to the circus mall, Ivan's heroic and caring nature shines forth. He is determined to follow through on a promise he gives Stella. This tale is even more remarkable in that it is partially based on true events. Ms. Applegate has created in Ivan a character one will long remember.
Gandhi, A March to the Sea by Alice B. McGinty, illustrated by Thomas Gonzalez
Suggested ages: 8 – 12 years
The story of Gandhi is another example of the power of the individual. In free verse, Ms. McGinty recounts the memorable 24-day March to the Sea, lead by Gandhi. Its purpose was to protest British taxes on salt and cloth as well as unfair laws that prohibited Indians to take salt from the sea on their own rather than buying salt from the British. Gandhi's ultimate aim, as we know from history, was to free India from British rule. Mr. Gonzalez's vivid colored pencil and pastel illustrations make a powerful companion to the moving tale told in simple phrases of Gandhi's heroic quest for his country and people
---
May 2015
April was officially "Poetry Month", but being May doesn't mean that one can't devote time for poems – especially when it comes to children! Children's language is often scattered with poetic phrases as they begin to put words together. They see the world through different eyes than adults and in doing so create word pictures which reflect their innocence and imagination. Rhythm and rhyme also appeal to children. Rhyming poems capture a child's affinity for repetition and rhythm. In addition, poetry is a wonderful vehicle for humor as demonstrated by the well–loved poetry of Shel Silverstein and Jack Prelutsky. Our library has quite a varied collection of children's poetry books. Check them out in the 800's of the children's non-fiction section as well as the "easy" picture books by using the on-line catalog as a guide. Also a display of poetry books are currently atop the children's low bookshelves. A few are highlighted below.
Book of Animal Poetry Edited by J. Patrick Lewis, U.S. Children's Poet Laureate
This is a collection of poems by such favorites as Robert Frost, Jack Prelutsky, Emily Dickinson and more. The poetry is supported by marvelous colored animal photographs produced by National Geographic which are bound to fascinate every child and adult. The varied animal poems are divided into categories meant to catch children's attention such as "the big ones", "the little ones", "the strange ones" and "the noisy ones". Children will enjoy reading poems about the familiar – gorillas, lions, seals – as well as being introduced to the peculiar blue-footed boobie or the unusual anemone.
Ubiquitous: Celebrating Nature's Survivors by Joyce Sidman
Ubiquitous is a poetry book with a different take on the life of the planet. The poems focus on global life as varied as dandelions, bacteria, coyotes, and sharks. Each poem is accompanied by an informative paragraph with interesting facts and tidbits which further illustrate how these unique survivors have not succumbed to extinction. The stunning artwork by Beckie Prange, all hand-colored linocuts, extends the educational aspects of a most beautiful book. This handsome volume is sure to fascinate the older child.
All the World by Liz Garton Scanlon, illustrated by Marla Frazee
All the World is a 2012 Caldecott Honor Book. Rather than a collection of individual poems, it is one complete rhyming poem with an appealing rhythm particularly geared to younger children. Its tale is that of a warm summer day experienced by two children and their parents beginning on a beach, building a sand castle and collecting shells and ending with a cozy moonlit night coming after a sudden rainstorm. Children will have fun finding this highlighted family in the storied illustrations as well as other members of their community whose paths they cross as the day unfolds. The book celebrates the interconnectedness of us all and the comfort and joy found in the little things of life.
A Pizza the Size of the Sun by Jack Prelutsky, drawings by James Stevenson
Those children fondly familiar with the wacky poems of Shel Silverstein, will also find an allegiance to many of Jack Prelutsky's poems. Mr. Prelutsky has a natural sense of what delights children. His poems are clever and usually wrapped up in humor. Many of them are just shouting to be read aloud. And then there are the tricky poems such as 'Backwards Forwards Silly Rhyme' which will have children engrossed in trying to read this backwards poem forward!
Read a Rhyme, Write a Rhyme poems selected by Jack Prelutsky, illustrated by Meilo So
This book combines a marvelous collection of poems by various poets along with Jack Prelutsky's invitation to children to write their own. On each double spread he has created a "poemstart" to compliment the poems on the two facing pages. In addition, he provides other suggestions which read as if he is talking directly to his child reader (and hopefully writer!) A wonderful book for parent and child to share and perhaps collaboratively write their own poem. Have fun!
---
April 2015
This month the Children's Book News is featuring the award winning author, Kate DiCamillo. She has won two Newbery Medals for her children's novels, The Tale of Despereaux (2003) –made into an animated movie in 2008- and Flora and Ulysses (2013), reviewed below. The Newbery recognizes the year's "most distinguished contribution to American literature for children." Besides children's novels, Ms. DiCamillo also writes early chapter books. Check out her many wonderful books in the children's collection.
Flora and Ulysses, The Illuminated Adventures
Suggested Ages: 8-12 years
Realism and fantasy combine to make Flora and Ulysses, an unforgettable tale. The adventure begins with an out-of-control vacuum cleaner which sucks up an innocent squirrel! Flora, who witnesses this from her window, rescues the now almost hairless creature. As the tale unfolds, Flora discovers that the squirrel, now named Ulysses by Flora, has been transformed into a "superhero" with amazing strength and the ability to comprehend, type poetry and fly! They quickly form a fast friendship. This book is filled with quirky characters including Flora's parents who are living apart to begin with but who come together in the end of this rollicking tale. The story's characters shine light on hope, friendship, and love for life and all it encompasses. Flora's love of comics inspires the delightful comic-strip like art throughout. Due to sophisticated vocabulary and humor, the book may lend itself more appropriately as a shared read-aloud for the 8 and 9 year old.
Leroy Ninker Saddles Up
Suggested Ages: 6-9 years
Leroy is a little fellow with a big dream. He wishes to be a cowboy like the ones he sees in the western movies at the drive-in where he works. He has a hat, lasso, boots and lots of yippie-i-ohs but what he really needs is a horse. So he takes fate in his hands and sets out to answer a for sale ad for a horse. Maybelline isn't quite the horse he was picturing. Nevertheless, with words of endearment, plenty of "grub" and constant companionship, the two quickly become attached to one another until a sudden thunderstorm appears and the two friends are separated. Will they be reunited and end Leroy's lonely days? Humor and fun abound in this first volume of a new series.
Mercy Watson to the Rescue
Suggested Ages: 5-9 years
This is perfect as a beginning chapter book. The colorful, bold illustrations are wonderfully expressive and are found on almost every two page spread. Mercy Watson to the Rescue is the first in this best selling series. Mercy is a jolly pig who lives with Mr. and Mrs. Watson. He is treated as one of the family, sometimes snuggling in bed with the Watsons when she feels lonely at night and joining them 'round the breakfast table for her favorite treat of hot, buttered toast. The action begins when Mr. and Mrs. Watson's bed strangely begins to fall through the floor. Will Mercy come to their rescue? The ensuing action involving Mercy and two elderly neighborhood sisters will bring forth lots of giggles from the young reader.
Bink & Gollie
Suggested Ages: 6-9 years
This delightful series is a collaborative effort by authors Kate DiCamillo and Alison McGhee. Bink & Gollie, the first book of the series, received the Theodor Seuss Geisel Award (2011) which is given annually for the "most distinguished American book for beginning readers." The expressive black and white illustrations by Tony Fucile are marked by occasional splashes of color. At times the illustrations stand alone without text and carry the plot forward. Bink and Gollie are the best of friends though quite different in stature and personality. They are both independent of mind though even when Bink's innocent enthusiasm meets up with Gollie's more sophisticated attitude. The book contains three loosely connected stories involving Bink's love of outrageously colored socks, Gollie's imaginary adventure up the Andes Mountains and Gollie's acquiring of a pet goldfish, "a marvelous companion."
---
March 2015
Rain, Reign by Ann Martin
Recommended for ages 9- 12
Rain, Reign is narrated by Rose, a fifth-grader with high-functioning autism (Asperger's syndrome). It touches on family connections, sense of belonging, love, bravery, and doing what is right. Rose is obsessed with homonyms, delighting in each discovery of a homonym pair (or even triplet!) which she can add to her continually growing list. She also has a rigid sense of the importance of following rules, which drives much of the book's plot. Rose lives with her father who has little patience with Rose's peculiarities and has issues of his own, such as spending time at the local bar. Rose's savior is her uncle (her father's brother) with whom she has a special relationship and Rain, a stray dog whom her dad brings home to her. Rose and Rain are inseparable. A severe storm leads to the disappearance of Rain and Rose's subsequent search for him followed by her attempt to seek out Rain's original owners. Rose's story is a poignant tale that brings both tears and laughter.
Paul Meets Bernadette by Rosy Lamb
Recommended for ages 4-7
Paul, a goldfish, lives a lonely and boring life in his fish bowl, swimming round and round. Suddenly, another fish, Josephine, is dropped into his mundane world. Josephine encourages Paul to look out through his curving glass wall to all that is beyond. A banana on a nearby table becomes a yellow boat; a blue teapot is a whimsical elephant. Children will delight in seeing how ordinary objects can be transformed through one's imagination. This fable encourages us all to awake to the wonders around us. Sometimes we just need to see the world through another's eyes.
This Book Just Ate My Dog by Richard Byrne
Recommended for ages 3-6
This picture book is a fun twist to the famous excuse, "The dog ate my homework." Bella sets out to take her dog for a walk across the pages of the book. Suddenly, much to Bella's surprise, her dog disappears down the book's crack (gutter). Her friend, Ben, comes by and offers to help rescue him but he too is strangely pulled into the book gutter. Even first responders' efforts are to no avail. Instead, they meet similar fates as Bella's dog and Ben. Eventually, the reader's actions are desperately called for which returns things to normal – almost!