Children's Summer Reading Program: Imagine Your Story
June 1, 2020 @ 8:00 am

-

July 31, 2020 @ 5:00 pm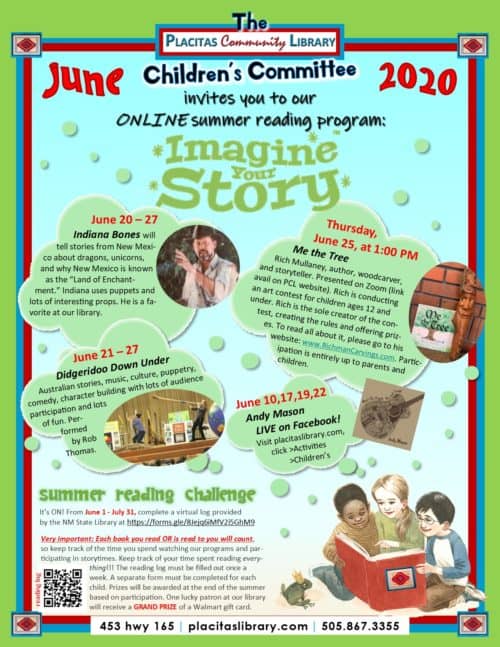 The Summer Reading program, "Imagine Your Story," will be online this summer during the months of June and July. Specific information on how to access the performances of a variety of programs will be on our website as will be dates, times, and other pertinent information. Some viewings will be recorded and some will be live.
The storytellers are:
Digeridoo Down Under – Australian stories, music, culture, puppetry, comedy, character building with lots of audience participation.
A Story Hour with Rich Mullaney, children's author and wood craver.
Katie Adams, nationally recognized puppeteer and storyteller, offering "Enchanted Kingdom Fairytales."
Shana Banana, musician, singer, songwriter, and puppeteer offering "Fairytales Gone Bananas."
Indiana Bones, one of our favorite storytellers who has visited the library before, telling stories from New Mexico
There
will also be weekly story hours from a variety of sources with well-known readers and some that will be new to you. In addition, we will conduct our Summer Reading Challenge online, courtesy of the New Mexico State Library.
Be sure to join us whenever you can. Reading prizes will be awarded at the conclusion of the challenge.