Icons and Symbols of the Borderland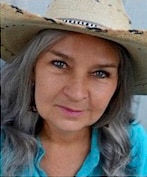 Those who live in New Mexico and the surrounding Southwestern States are familiar with the symbols that represent the culture, landscape, and people of the area. These symbols are found in art, music, nature, religion, even food. We see them but don't always understand the meaning behind them.
Join Diana Molina for a program featuring an eclectic, multifaceted portrayal that embodies the spirit of our regional heritage through symbols and iconographic representations, sometimes with a distinctly modern twist. Diana's visual presentation will include photos and art work that illustrate well-known symbols and some less familiar. The Virgin of Guadalupe, Pancho Villa, and the Mimbres Rock Art are the images that represent tradition, history, contemporary culture and nature. These reflect relationships of people, land and culture in  our rich environment.
This program is made possible through the support of the New Mexico Humanities Council and the National Endowment for the Humanities.